Music Producer/Director Dwight Kennedy has performed at events worldwide as well as on television and film. He has done extensive work as a composer, arranger and music producer as well as a session musician. Dwight also serves as a Writer, Show Director and Creative Consultant for theme parks, corporate/industrial events and shows world wide. Dwight Kennedy has performed at thousands of special events and has appeared at numerous jazz festivals worldwide as a featured drummer, guitarist, vocalist, and banjoist with many classic jazz artists.

As a musician, Dwight Kennedy has performed on hundreds of albums and soundtracks. As the leader of Dwight Kennedy's Le Jazz Hot, he fore-fronted the retro-swing movement and performed at all of the top swing venues as a feature artist.
An accomplished actor and comedian, Dwight has appeared in many films such as Wedding Crashers, and television shows such as The Gilmore Girls, Veronica's Closet and The The Rosie O'Donnell Show & Drew Carey Show. As an Emcee, he has hosted countless special events bringing his "late night" style to many Fortune 500 companies.
Dwight studied music at Duquesne University, U.C.L.A. and the Grove School of Music. After graduation, he began writing music for many television shows and films. His interest in the business side of entertainment led Dwight to stints in the tv/ film industry at RKO Films, and MGM. From there, he launched Dwight Kennedy Entertainment, where he became a consultant to numerous film and television studios as a music director/producer, writer and arranger.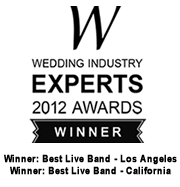 About Dwight Kennedy:
Music Producer