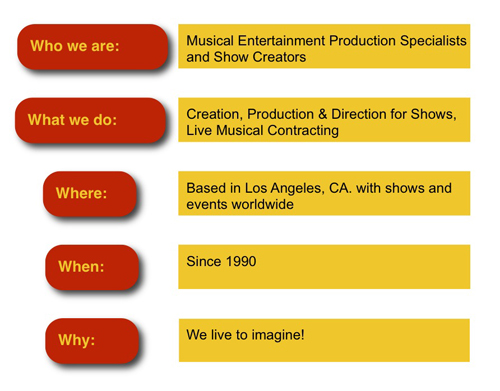 Dwight Kennedy
has produced/directed shows and events worldwide as well as on television and film. He has done extensive work as a composer, arranger and music producer as well as a session musician. Dwight also serves as a Writer, Show Director and Creative Consultant for theme parks, corporate/industrial events and shows world wide.
As a
musician, Dwight Kennedy
has performed world-wide with his band, and has recorded on a multitude of albums and soundtracks. He has performed at thousands of special events and has appeared at numerous jazz festivals worldwide as a featured drummer, guitarist, vocalist, and banjoist with many classic jazz artists.
An accomplished
actor and comedian
, Dwight has appeared in many films such as
Wedding Crashers, When It Clicks, Festival In Cannes
and on television shows such as
The Gilmore Girls, Veronica's Closet, The Rosie O'Donnell Show and The Drew Carey Show. As an Emcee, he has hosted countless special events bringing his "late night" style to many Fortune 500 companies.

Dwight studied music at Duquesne University, U.C.L.A. and the Grove School of Music. After graduation, he began writing music for many television shows and films. He also worked at RKO Pictures and MGM. From there, he launched Dwight Kennedy Music, where he became a consultant to numerous film and television studios, theme parks and event companies as a Music Director/Producer, Creative Consultant and Show Director.

Dwight Kennedy Music, Inc. - Overall Scope

Main Clients - Fortune 500 companies, Concerts, Special Events & Major Theme Parks world-wide.

*Music Composer/ Music Producer / Show Director / Executive Producer for Live Events, Theme Park, Television, Film and Commercial Production.

*Complete Entertainment Design Specialists ~

- Including Production Managing/Line Production, Payroll Services, Creative Consulting, Talent Managing, Writing, Complete Music Production & Show Direction.

*Writer for Treatment and Scripts (Dwight Kennedy)

*Musical Contractor Specialists (Headliner Musical Acts, Musicians for Recording Sessions & Live Performance)

*Event Producer - Producing, Managing and Leading all aspects of high end special events such as logistics, budget, pitch, overall concept and design, Entertainment, Operations, Stage Management, Transportation, Script Writing, Production Management, Show Direction.



About Dwight Kennedy:
Show Director/Music Producer/Writer